Yesterday was a perfect day. The daffodils waved and bowed in the breeze in homage to the sun; the sky shimmered a deep shade of blue; and I met two friends who were both old and new.
Bea (Wanderer) was one of the first people to welcome me to J-land when I began this journal in September 2006. She left me such encouraging comments that I was immediately drawn to her personailty. Bea is as sunny as any daffodil I've ever seen. Upon visiting her journal, it was confirmed that she is indeed a woman of heart, mind, and soul. I met Caroline (A New Adventure) through Bea. Thoughtful, warm, and with a delightful sense of humor, I quickly added her journal to my alerts.
Both of these women are dedicated teachers and I think that the entire crisis in public education could be resolved if we could clone them. Their faces light up when they talk about their classrooms. Their students are so fortunate to have such intelligent, caring, and highly skilled teachers.
I was delayed by traffic on I-40 and called Bea from the road to tell her that I was running late. Bea said that she and Caroline were further out than I was. I decided to to take a roundabout route to the restaurant so as to take a nostalgic look at the apartment building that I lived in for fourteen years in Chapel Hill, NC. Of course, they arrived at the restaurant before I did! Bea had told me that she would be wearing purple and black. When I entered the restaurant, I noticed a petite woman wearing a lovely purple shawl and a stylish black plants outfit but I couldn't see her face. Thinking that I had arrived first, I waited. But when she turned and I saw the friendly face, the bright smiling eyes, I knew that it had to be Bea. Then I noticed Caroline beaming beside her and I knew that I had found my party! Bea and Caroline and I exchanged hugs all around and then we were seated.
I had suggested that we have lunch at Mama Dips, a Chapel Hill, NC restaurant known for down home southern cooking. I had sent Caroline and Bea a review of the restaurant that included pictures of some of the food. Naturally, we wanted our own pictures of the food, and Caroline whipped out her camera and did the honors. Check out her journal for pictures of our delicious luncheon dishes. I've borrowed my favorite to post here; the three of us sharing a dessert of peach cobbler and vanilla ice cream.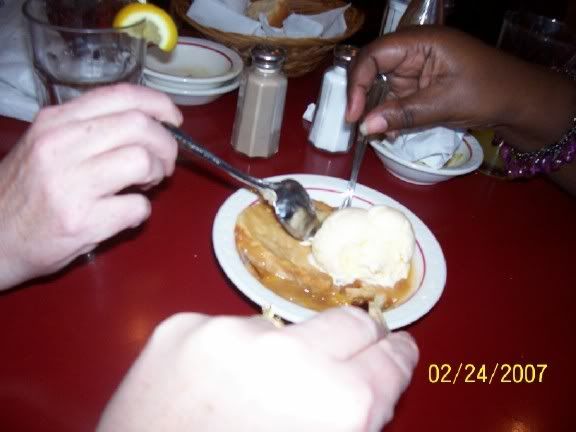 We chatted nonstop for nearly three hours about everything and nothing, on topics ranging from the serious to the silly. We laughed a lot and even giggled. We further commemorated the visit with pictures taken outside next to the restaurant sign.
Thank you and hugs to my friends Bea and Caroline for a wonderful afternoon. I look forward to a future rendezvous!