Leave it to me to procrastinate writing an entry for September's Artsy Essay Contest. Frankly, I was a bit intimidated by Judith's clever creative prompt. She presents a list of 50+ words that she labels "obscure artsy word list." Please visit her site to see the complete list. The challenge or inspiration was to utilize as many or as few of the words that you want in creating an original work. I've been playing with the word list for days, waiting for inspiration to strike. I found my inspiration tonight in an early 17th century painting by Georges de La Tour, called Mary Magdalene. The rules require that I identify in some way which words I have used from the list. My selections are underlined.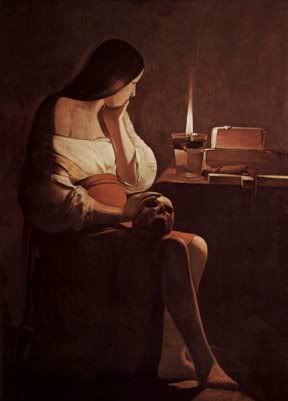 Magdalene of the Shadows
The thing about shadows is this--
darkness swallows them whole,
without light they do not exist.
The great masters understood
this juxtaposition of light and shade,
the sublimation of bright to dark.
So Monsieur de La Tour paints Mary by candlelight,
a woman in chiaroscuro,
the other Mary,
the whore,
remembered for her skills in foot washing,
her sweet perfumes.
What secrets does she hide in the dark hues that embrace her?
The gaze intent on the white heat of the flame,
a skull resting so casually in her lap,
what darkness wraps around her soul,
bowing her head with such despair?
The link for the contest:
http://judithheartsong.blogspot.com/2007/09/septembers-artsy-essay.html

Tags: Mary Magdalene, chiaroscuro, Georges de La Tour, artsy essay contest, obscure artsy word list